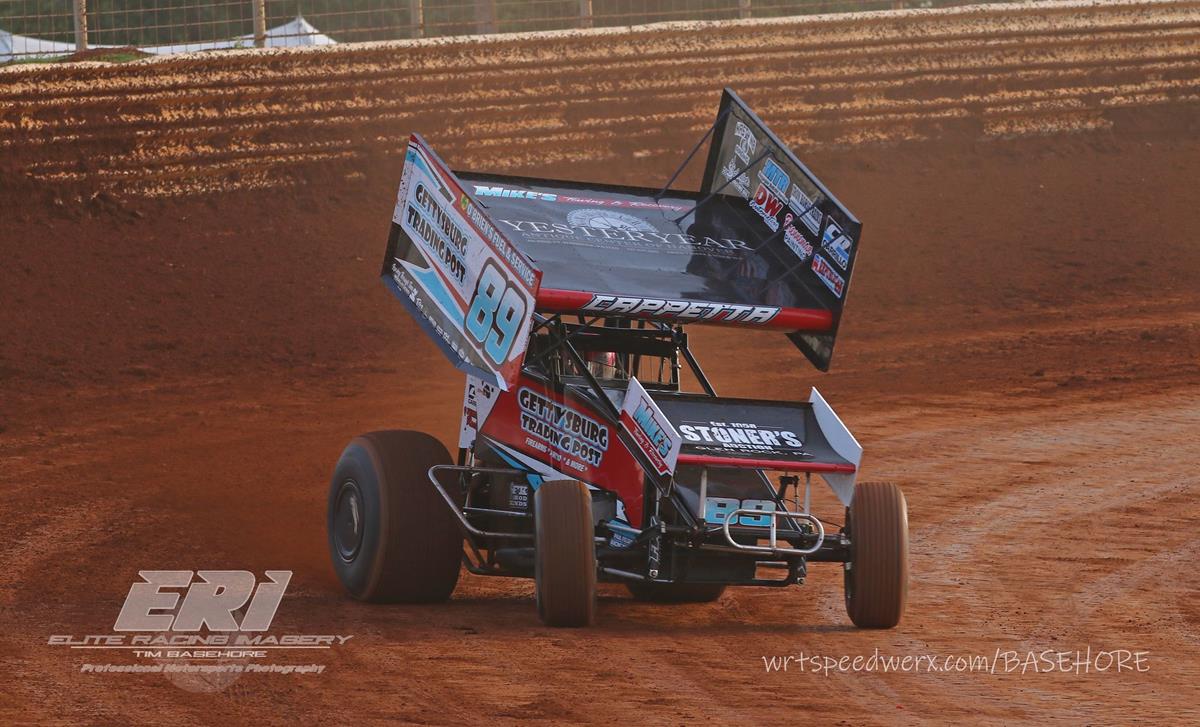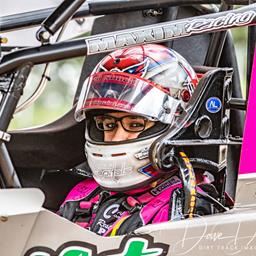 ---
Cappetta Takes Stepping Out of Her Comfort Zone in Stride
First Trip to BAPS in Five Years
Abbottstown, PA – May 31, 2023
by Emily Winslow / Addicted2Dirt PR & Media Mgmt
Photo Credit: Tim Bashore/ERI/WRT Speedwerx
Ashley Cappetta made her first trip back to BAPS Motor Speedway in five years to compete in the Summer Series event on Saturday night.
Date: May 27, 2023
Event: 358 Summer Series Dirty 30
Track: BAPS Motor Speedway
City, State: Newberrytown, PA
Quick Stats: 29 cars, Heat 6th [8], A-main 13th [18]
Cappetta Puts Together Solid Night in Return to BAPS
Ashley Cappetta and the Gettysburg Trading Post, Mike's Towing and Recovery, Yesteryear Antique Center, Stoner's Auction, O'Brien's Fuel and Service, Iron Horse Trains, Republican Club of Hanover No. 89 were back in action on Saturday night at BAPS Motor Speedway.
Cappetta's bad pill draw gremlin was back as she picked the highest pill available to start the night, but she did not let that put a damper on her spirits. Her pill draw put her in a solid group for timed hot laps which would line up the heat races. Ashley started eighth in her heat race and would cross the line sixth, putting her in the feature, "I didn't feel great in the heat race. I got lucky since other people screwed up. The car wasn't tight enough and trying to find a groove I was comfortable in was challenging."
Ashley lined up eighteenth for the start of the feature and fell back to 23rd, "I stayed up top but there wasn't much there so I fell back to 23rd." Cappetta and the team took advantage of an open red during the feature to make some adjustments to the car, "We made the car tighter when we had the chance and once everyone got spread out, I started to do what I needed to do." Cappetta got confident with 17 laps to go and drove her way up to finish 13th.
Plenty of Positives to Take Away From BAPS
One of Cappetta's goals for 2023 was to get out her comfort zone and she did just that on Saturday night with a trip to BAPS, "We went in blind. The last time I was there we were still using the 358 wing." The night started with timed hot laps, which were used to set the heat race line-ups. In addition to the new track, the team pulled out a car they haven't run since last year for Saturday night.
"At the end of the night we made the show and took the car home in one piece," which meant Ashley and the team accomplished the goals they set out to achieve for the night. In addition to meeting their goals they also have a solid notebook for the next time they race at BAPS. "Honestly, I want to do this more, it definitely helped me to learn and gain confidence as a driver."
Steve Smith Tribute Race Up Next
A race that is near the dear to Ashley's heart, the Steve Smith Tribute Race, is up next. "I'm putting a lot of pressure on myself for this race, my dad worked for Steve and now Stevie does my brakes. My expectation is to win, but overall wanting to do well will be our number 1 priority." This will be the first time the 358 sprints are a part of the tribute race, "I want to do well for Steve and I want to do well for my dad."
Stay tuned to Cappetta's social media accounts, as well as Addicted2DirtPR.com/Events for the most up to date schedule information.
Up Next
Lincoln Speedway, Saturday, June 3 at 7PM
Season Stats
4 races, 0 wins, 0 top 5's, 0 top 10's, 2 top 15's
Trivia Question
What is Ashley's birthday?
The answer in the next press release!
Last week's answer: Ashley went to Bermudian Springs High School
Partner Spotlight
O'Brien's Fuel & Service, LLC is a Four Seasons Company. They have more than 50 years of experience in the petroleum industry and now service South Central Pennsylvania and Northern Maryland.
O'Brien's is geared toward helping all customers, current and future, take back control of their fuel cost with cost-efficient propane tanks, delivery of fuel oil and fuel-related services.
They have and will continue to help each customer understand just how to save money on every gallon of propane or fuel oil they purchase throughout each heating season and all year long.
ASHLEY CAPPETTA RACING
Press Releases: A2DPR.com/latest-news
Facebook: Facebook.com/ACappettaRacing89
Twitter and Instagram: Twitter.com/A_Cappetta89
Website: AshleyCappettaRacing.com
THANKS TO OUR PARTNERS!
The entire team would like to express their appreciation to all their partners for the support during the 2023 racing season!
Gettysburg Trading Post
Mike's Towing & Recovery
Yesteryear Antique Center of Hanover
Stoner's Auction
O'Brien's Fuel and Service
Iron Horse Trains
Republican Club of Hanover
Racing Through Time Antiques & Collectibles
CP-Carrillo
DW Automotive Services, LLC
FK Rod Ends
Food Adventures
BAM Products Roller Lifters
KH Suspension
NASTY N8 Racing
Schaeffer's Oil / Doug Smith
Smith Titanium
Total Seal
Hooker Harness
MyRacePass
Sharp Advantage Safety Products, LLC
Titan Wings
BDB Graphics
K1 Racegear
Kinsler Fuel Injection
AL Driveline
3 Feathers Racing
Jesel
OGIO
GoPro
Slick Products
Paul Felsch Engines
Barnes Oil Systems
---
Article Credit: Emily Winslow
Submitted By: Ashley Cappetta
Back to News