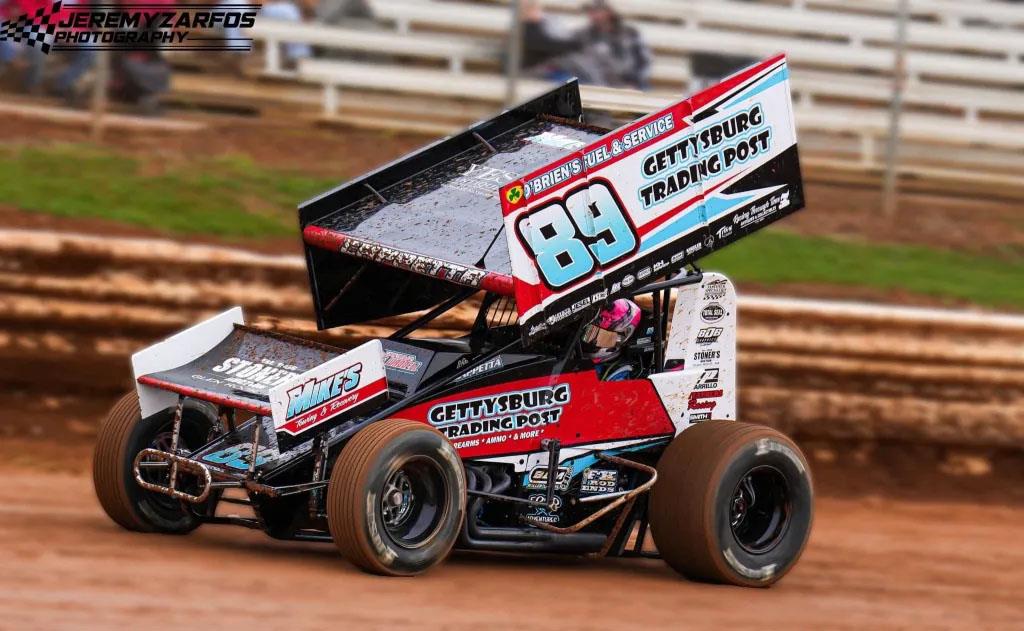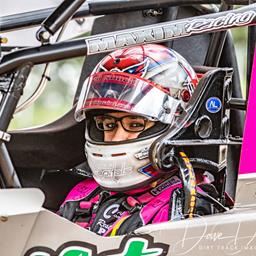 ---
Long, Rainy Night Produces Solid Results for Cappetta
First Night on New Tire Compound Goes Well
Abbottstown, PA – May 24, 2023
by Emily Winslow / Addicted2Dirt PR & Media Mgmt
Photo Credit: Jeremy Zarfos Photography
Ashley Cappetta and her team made their third start of the season at Lincoln Speedway on a long and rainy night. After a lengthy rain delay Lincoln got the show in for the race teams and the fans.
Date: May 20, 2023
Event: Weekly Racing
Track: Lincoln Speedway
City, State: Abbottstown, PA
Quick Stats: 38 cars, Heat 7th [7], B-main 4th [5]; A-main 15th [24]
Cappetta Turns Bad Pill Draw into Solid Night
Ashley Cappetta and the Gettysburg Trading Post, Mike's Towing and Recovery, Yesteryear Antique Center, Stoner's Auction, O'Brien's Fuel and Service, Iron Horse Trains, Republican Club of Hanover No. 89 were back in action on Saturday night at Lincoln Speedway.
The night started off with a pill draw of 50, which was higher than last week and lined Cappetta up seventh in her heat race. Ashley started seventh and finished seventh in her heat, "We missed the set up in the heat race a little bit. I felt like I was rolling the right rear and the car was hard to handle from the middle of the heat through the end." Prior to the racing action, there was a lengthy rain delay on Saturday night which meant the track had a lot of moisture, "At the beginning of the heat the track was still wet and I ran out of tear-offs. Driving into turn 3 there was so much mud on my visor I couldn't see."
Ashley lined up fifth for the B-main and would move up to finish fourth putting her in the feature line-up. Cappetta started the 25-lap feature 24th and drove up to finish 15th, "It was tough to start in the back, especially when the track was as fast as it was, but we stayed out of trouble which is 100% a priority for the team." Saturday's finish was the best for Cappetta so far this season and it just happened to be the first race of the 2023 MacMor Summer Series for the 358 sprint car division, "Overall it felt good to pass cars and come home in one piece. If it would have stayed green for longer, we would have finished better."
New Tire Compound Receives Positive Review from Cappetta
Saturday night was the first time Cappetta ran the new Hoosier tire compound and after one night Ashley had positive take-aways, "The new tires seemed to work out for me. We didn't need to make any major changes to the car set up." One of the features of the new tire is that they can be flipped and potentially reused more than the previous compound, "I did like that the combination of the track conditions and new tire compound allowed us to use the same set of tires all night and they're still good for another race yet."
BAPS Dirty 30 Up Next
The second race of the MacMor Summer Series is the Dirty 30 at BAPS Motor Speedway on Saturday and Ashley will be there to compete in the #89. The race boasts a hefty purse paying $3,000 to win and $500 to start the 30-lap feature. Originally looking forward to a weekend off to regroup from her busy race and work schedules, Cappetta and the team made the decision to support the race at BAPS and stay true to her season-long goal of getting out of her comfort zone.
Stay tuned to Cappetta's social media accounts, as well as Addicted2DirtPR.com/Events for the most up to date schedule information.
Up Next
BAPS Motor Speedway, Saturday, May 27 at 7PM
Season Stats
3 races, 0 wins, 0 top 5's, 0 top 10's, 1 top 15's
Trivia Question
What high school did Ashley attend?
The answer in the next press release!
Last week's answer: Ashley's antique business is Racing Through Time Antiques & Collectibles!
Partner Spotlight
Stoner's Auction
Stoner's Auction is a full-service auction company specializing in estates, liquidations, real estate. Check out their upcoming auctions on AuctionZip!
ASHLEY CAPPETTA RACING
Press Releases: A2DPR.com/latest-news
Facebook: Facebook.com/ACappettaRacing89
Twitter and Instagram: Twitter.com/A_Cappetta89
Website: AshleyCappettaRacing.com
THANKS TO OUR PARTNERS!
The entire team would like to express their appreciation to all their partners for the support during the 2023 racing season!
Gettysburg Trading Post
Mike's Towing & Recovery
Yesteryear Antique Center of Hanover
Stoner's Auction
O'Brien's Fuel and Service
Iron Horse Trains
Republican Club of Hanover
Racing Through Time Antiques & Collectibles
CP-Carrillo
DW Automotive Services, LLC
FK Rod Ends
Food Adventures
BAM Products Roller Lifters
KH Suspension
NASTY N8 Racing
Schaeffer's Oil / Doug Smith
Smith Titanium
Total Seal
Hooker Harness
MyRacePass
Sharp Advantage Safety Products, LLC
Titan Wings
BDB Graphics
K1 Racegear
Kinsler Fuel Injection
AL Driveline
3 Feathers Racing
Jesel
OGIO
GoPro
Slick Products
Paul Felsch Engines
Barnes Oil Systems
---
Article Credit: Emily Winslow
Submitted By: Ashley Cappetta
Back to News