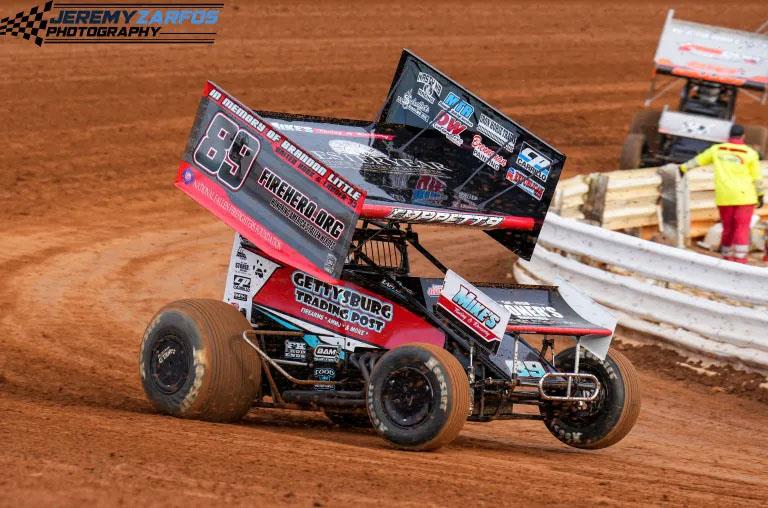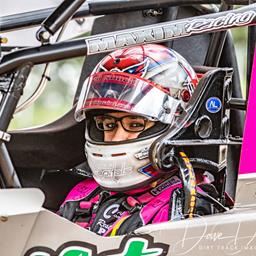 ---
Cappetta Gains Confidence
The National Fallen Firefighters Race "Guise-Little Memorial" is a Special Night for Cappetta
Abbottstown, PA – May 9, 2023
by Emily Winslow / Addicted2Dirt PR & Media Mgmt
Photo Credit: Jeremy Zarfos Photography
Ashley Cappetta and her team made their second start of the season at Lincoln Speedway and despite a 17th place finish, Cappetta and the team have a positive outlook heading into their next race.
Date: May 6, 2023
Event: National Fallen Firefighters "Guise-Little Memorial"
Track: Lincoln Speedway
City, State: Abbottstown, PA
Quick Stats: 38 cars, Heat 6th [9], B-main 3rd [3]; A-main 17th [23]
Second Race of the Season Builds Team Confidence
Ashley Cappetta and the Gettysburg Trading Post, Mike's Towing and Recovery, Yesteryear Antique Center, Stoner's Auction, O'Brien's Fuel and Service, Iron Horse Trains, Republican Club of Hanover No. 89 were finally back in action on Saturday night at Lincoln Speedway after a rainy month of April.
Cappetta, in sticking to her goals for the season, did not let a bad pill draw put a damper on her night. Ashley lined up ninth for her heat race and got a good initial start. Unfortunately, the red came out which resulted in Cappetta lining up on the outside for the restart, "Coming out of 4 I ended up in the air. It happened so fast I didn't even realize what happened. I didn't have much of an option other than staying on the gas to get back on all four tires." Cappetta would continue on to finish sixth in the heat, one spot shy of qualifying for the feature. Ashley started and finished third in the B-main putting her in the main event. Cappetta lined up 23rd for the 20-lap feature and would cross the line 17th.
Despite Results Cappetta has Positive Take-away from Saturday
"The car felt great all night. We had speed this weekend," according to Cappetta. The improvements were likely somewhat due to fixing the issues they found with the car after the season opener. Ashley continued, "All in all if we had been able to start up front, we would have been able to finish up front. I actually had fun. Of course, I don't love finishing in the back but it gave me confidence. It gave everyone on the team a confidence booster."
Fallen Firefighters Night Holds a Special Place in Cappetta's Heart
Ashley's Uncle Jim used to be a firefighter and up until his surgery last year he was still involved with the fire police, and service men and women hold a special place in her heart, "This race is important to me because these people put their life on the line for people they don't know." The first year they held the National Fallen Firefighters race Ashley ran a special car design to honor fallen firefighters and the rest is history as she has put something special on the car for every iteration of this race. Through the years Ashley has become friends with the Little and Guise families and actually pursued being a volunteer firefighter with United Hook and Ladder herself. In the end, racing and her thriving business kept her from completing her training. "I love how they get the drivers and fans together; it makes the race even more special and I can't wait to see it grow in the future."
Stay tuned to Cappetta's social media accounts, as well as Addicted2DirtPR.com/Events for the most up to date schedule information.
Up Next
Cappetta will return to Lincoln Speedway on Saturday, May 20 at 7PM.
Season Stats
2 races, 0 wins, 0 top 5's, 0 top 10's, 0 top 15's
Trivia Question
What is the name of Ashley's antique business?
The answer in the next press release!
Last week's answer: Ashley's dog's name is Hodnett.
Partner Spotlight
Mike's Towing & Recovery Inc.
Mike's Towing & Recovery Inc. provides light to heavy duty towing, heavy hauling, roadside assistance, and mobile truck repair in the Hanover and Greater York, PA areas.
Services
• Towing
• Roadside Assistance
• Heavy Truck Towing
• Mobile Truck Repair
• Heavy Hauling
Specialties
• Towing
• Roadside Recovery & Repair
• Truck Repair
• Trailer Repair
• Heavy Hauling
ASHLEY CAPPETTA RACING
Press Releases: A2DPR.com/latest-news
Facebook: Facebook.com/ACappettaRacing89
Twitter and Instagram: Twitter.com/A_Cappetta89
Website: AshleyCappettaRacing.com
(photo credit: Jeremy Zarfos Photography)
(photo credit: Troy Junkins/WRT Speedwerx)
(photo credit: Jeremy Zarfos Photography)
Broadcast coverage of most Lincoln Speedway events is available at FloRacing.com
Broadcast coverage of Port Royal Speedway events is available at FloRacing.com
Broadcast coverage of Williams Grove Speedway events is available at DirtVision.com
SPECIAL THANKS
Thank you to all our partners, including our silent partners who do everything they can to help but ask for nothing in return! Below are the businesses…the people…the families…that make what these teams do possible.
PLEASE take the time to browse this information and help the teams by giving your business to these partners.
Most importantly, tell them WHY you patronized them and thank them for being involved in racing!
THANKS TO OUR PARTNERS!
The entire team would like to express their appreciation to all their partners for the support during the 2023 racing season!
Gettysburg Trading Post
Mike's Towing & Recovery
Yesteryear Antique Center of Hanover
Stoner's Auction
O'Brien's Fuel and Service
Iron Horse Trains
Republican Club of Hanover
Racing Through Time Antiques & Collectibles
CP-Carrillo
DW Automotive Services, LLC
FK Rod Ends
Food Adventures
BAM Products Roller Lifters
KH Suspension
NASTY N8 Racing
Schaeffer's Oil / Doug Smith
Smith Titanium
Total Seal
Hooker Harness
MyRacePass
Sharp Advantage Safety Products, LLC
Titan Wings
BDB Graphics
K1 Racegear
Kinsler Fuel Injection
AL Driveline
3 Feathers Racing
Jesel
OGIO
GoPro
Slick Products
Paul Felsch Engines
Barnes Oil Systems
PUBLIC RELATIONS
Addicted2Dirt PR and Media Management provides personal and powerful dirt motorsports public relations. We are a central Pennsylvania based business with a love of and passion for dirt racing and the people who make the sport what it is.
We keep fans engaged with your story through our personalized press releases
We promote your marketing partners to give them the value they want for their investment
We increase driver & team visibility to reach more fans and potential marketing partners
We present the polished, professional image that marketing partners want representing them
We leverage our audience and business model to achieve all of the above
Visit our website, A2DPR.com, to learn more about us and follow along with the stories of our race teams!
Follow A2D on Social Media! We are @Addicted2DirtPR on Facebook, Instagram, Twitter and TikTok! Follow hashtag #TeamA2D!
And of course, don't forget to subscribe to our YouTube Channel so you are always notified of our latest video features, recaps and stories for #TeamA2D!
Contact us via Email at: Rich@A2DPR.com
---
Article Credit: Emily Winslow
Submitted By: Ashley Cappetta
Back to News