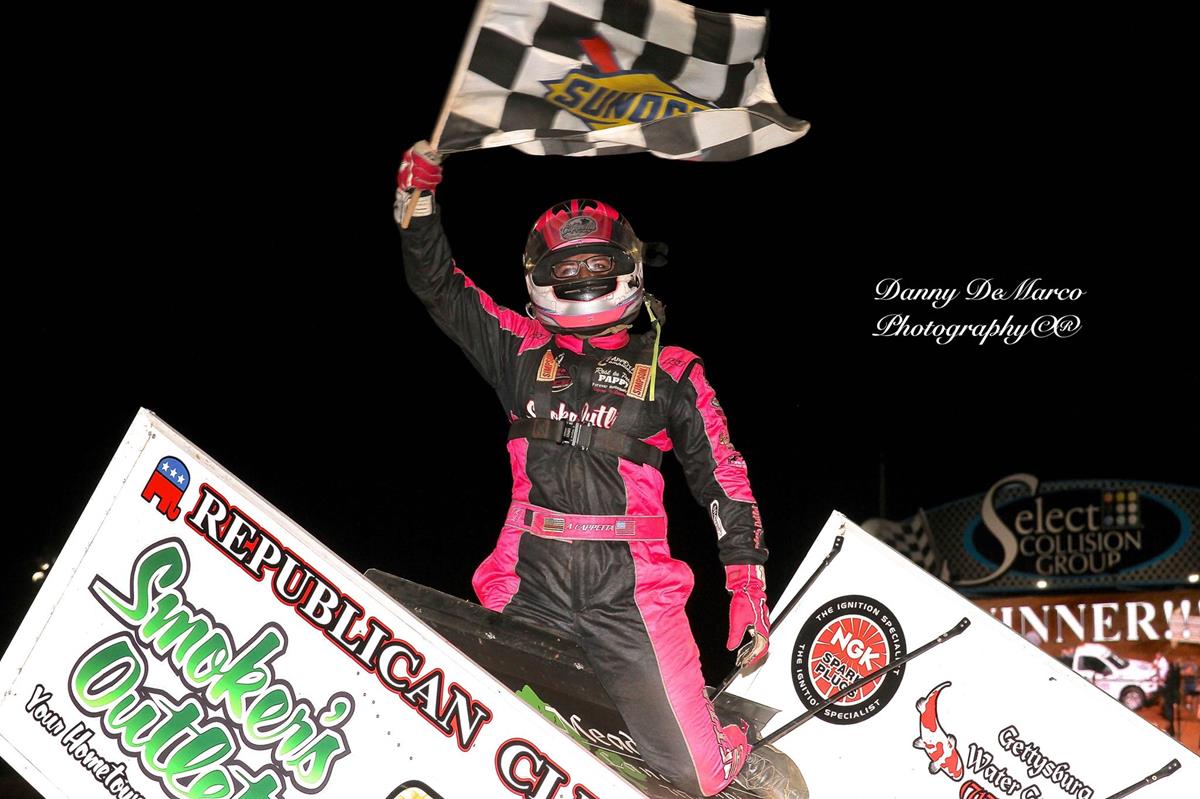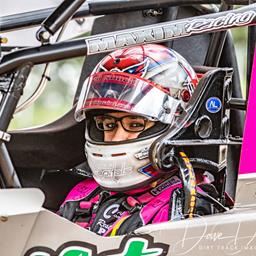 ---
Cappetta Celebrates 11 Years Of Racing, Reflects on Career
With Over a Decade Under Her Belt Cappetta Reflects on Her Racing Career
Abbottstown, PA – April 26, 2023
by Emily Winslow / Addicted2Dirt PR & Media Mgmt
Feature Photo: Ashley Cappetta in victory lane in 2019 celebrating her first victory at Lincoln Speedway!
Photo Credit: Lincoln Speedway
Ashley Cappetta started building her first race car at the age of 17 and competed for the first time as an 18 year old at Trail-Way Speedway. Her engine builder convinced her to go to Trail-Way and tag the rear of the field instead of doing more practice sessions and with the focus at the start of her career being aimed at learning more than performance, starting in the back helped with the learning process. Cappetta opted to start in the rear for about 75% of her first season and would pull in after getting lapped as a respectful move for the other drivers. Once veteran drivers like Jeff Rohrbaugh and Tim McClelland gave her the okay to start up front, she made the transition to lining up with the field.
Some Things Change and Some Things Stay the Same
There have been a lot of changes in sprint car racing since Cappetta embarked on her career in the sport, with one change at the top of the list, "Cost has definitely changed drastically." Cappetta recalls rear tires costing $199 11 years ago and now they are over $300, just as one example of the change. Another change Ashley has noticed is the atmosphere, "It used to be more fun and friendly, maybe it's the cost that has caused the atmosphere to change but the car wash used to be a fun place to hang out after the races and now it's more of a business atmosphere, so it's not as fun." Technology has also evolved over the years. Now streaming is the preferred way to watch and rewatch races but at the start of her career everything was on DVDs.
As much as things change there are always things that stay the same, "I've always had passionate fans that are there for me no matter where I finish and what happens." Cappetta's crew has also been a steady force throughout her career. And one thing that will never change is her commitment to giving back to the racing community.
Looking Ahead
When looking 11 years into the future, Cappetta doesn't have a clear view in her crystal ball, "I don't know if I'll be racing 11 years from now." One of the biggest deciding factors on how much she'll be racing in the future is her antique and collectibles business. Ashely started her business at 17 to fund her race team and it keeps growing. She is going for her auctioneer license soon and that along with her growing business will help dictate the future of her racing career.
Cappetta isn't alone in some of her concerns for the sport as a whole when looking 11 years ahead, "Cost and involvement from the younger generation will play a big roll in what happens with racing in the future." Ashely has concerns that tire costs could potentially play a factor in keeping some of the lower budget teams out of the picture. She also emphasized the importance of getting young fans to the track to ensure the sport has a fan base moving forward.
Reflection
"I was horrified when I first got started. There were so many doubters that said I would never win a race and never make it," Cappetta reflected on how she felt at the start of her career. She had no racing experience when most of the other competitors had raced something before jumping into the 358 sprint car division. Now Cappetta can look back at the highlights of her 11 year career which include two very special Lincoln Speedway wins. "Your first win is always special, but my first win came on August 10 which is Pat Sterner, a long time supporter's, birthday. It is also the day that the mother of Destiny Eckenrode, a young fan of mine who had passed away, got married." Ashley's second came at the 2021 Weldon Sterner Memorial which was special because of her relationship with Pat Sterner. In addition to her wins, Cappetta's first podium finish happened at a Brandon Little Memorial race.
Throughout her career Ashley has had some impressive role models to look up to, with the first on her list being the late Greg Hodnett followed by Stevie Smith. Both Hall of Fame drivers spent quite a bit of time racing in Central PA and had an impact on Cappetta's career. Ashley's Uncle Rob, an engine builder, and Brad Sweet, the driver that her Uncle builds engines for, have also played an important role in getting Ashely to where she is today. Jeff Rohrbaugh, a veteran of the 358 sprint car division, helped Ashely at the beginning of her career and she credits him with teaching her how to run the bottom.
When asked what advice do you wish you could go back and give yourself before your first race 11 years ago Ashley had two important things she would share with her younger self, "First, don't let people get under your skin and second, start your racing career sooner and in a different division."
Stay tuned to Cappetta's social media accounts, as well as Addicted2DirtPR.com/Events for the most up to date schedule information.
Up Next
Cappetta will return to Lincoln Speedway on Saturday, April 29 at 6pm.
Season Stats
1 races, 0 wins, 0 top 5's, 0 top 10's, 0 top 15's
Trivia Question
What is the name of Ashley's German Shepherd?
The answer in the next press release!
Last week's answer: Ashley Cappetta scored her first 358 sprint car win in 2019 at Lincoln Speedway!
Partner Spotlight
Gettysburg Trading Post: Serving south central Pennsylvania and Northern Maryland, helping customers with all their firearm related needs! Gettysburg Trading Post is conveniently located at 2222 York Road. Stop by today to buy, sell, or trade.
Firearms
At Gettysburg Trading Post, you will find wide variety firearms for every need. Their inventory is constantly evolving so stop by today to see what they have. All in-stock firearms are on display for anyone to view. They're also prepared to process all transfer paperwork and manage every aspect of your firearms purchase!
Firearm Accessories
They're constantly upgrading their inventory to include scopes, mounts, laser sights, carry cases, ammunition, magazines, cleaning kits, grips, and all the parts you need to make your firearm the best it can be.
Browse their large selection of protective equipment including pepper spray and pepper gel and their great selection of quality Benchmade Knives!
ASHLEY CAPPETTA RACING
Press Releases: A2DPR.com/latest-news
Facebook: Facebook.com/ACappettaRacing89
Twitter and Instagram: Twitter.com/A_Cappetta89
Website: AshleyCappettaRacing.com
THANKS TO OUR PARTNERS!
The entire team would like to express their appreciation to all their partners for the support during the 2023 racing season!
Gettysburg Trading Post
Mike's Towing & Recovery
Yesteryear Antique Center of Hanover
Stoner's Auction
O'Brien's Fuel and Service
Iron Horse Trains
Republican Club of Hanover
Racing Through Time Antiques & Collectibles
CP-Carrillo
DW Automotive Services, LLC
FK Rod Ends
Food Adventures
BAM Products Roller Lifters
KH Suspension
NASTY N8 Racing
Schaeffer's Oil / Doug Smith
Smith Titanium
Total Seal
Hooker Harness
MyRacePass
Sharp Advantage Safety Products, LLC
Titan Wings
BDB Graphics
K1 Racegear
Kinsler Fuel Injection
AL Driveline
3 Feathers Racing
Jesel
OGIO
GoPro
Slick Products
Paul Felsch Engines
Barnes Oil Systems
---
Article Credit: Emily Winslow
Submitted By: Ashley Cappetta
Back to News