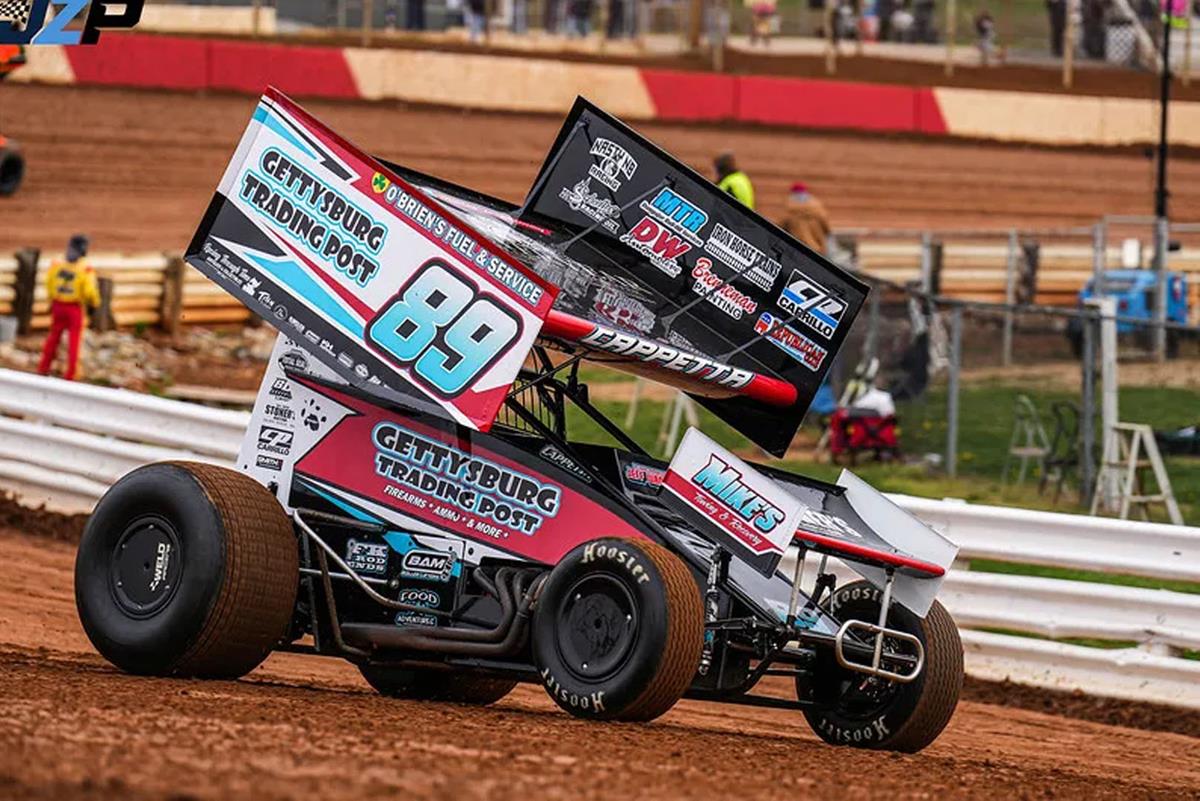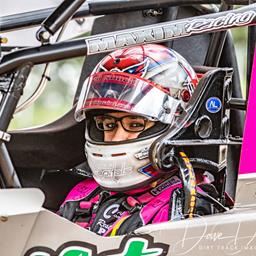 ---
Cappetta Kicks-off 2023 Season at Lincoln Speedway
Abbottstown, PA – April 11, 2023
by Emily Winslow / Addicted2Dirt PR & Media Mgmt
Photo Credit: Jeremy Zarfos Photography
Ashley Cappetta and her team made their season debut at Lincoln Speedway on Saturday and despite some challenges they were able to take the care home in one piece and are looking to get back to the track to improve.
Date: April 8, 2023
Event: Hanover Concrete Night
Track: Lincoln Speedway
City, State: Abbottstown, PA
Quick Stats: 29 cars, Heat 5th (2), A-main 17th (14)
Season Opener Proves Challenging
Ashley Cappetta and the Gettysburg Trading Post, Mike's Towing and Recovery, Yesteryear Antique Center, Stoner's Auction, O'Brien's Fuel and Service, Iron Horse Trains, Republican Club of Hanover No. 89 made the short trip to Lincoln Speedway on Saturday to kick off another season in the 358 sprint car division.
Cappetta started off the night with drawing the 8 pill which put her on the outside of the front row for the start of her first heat race of the season. Cappetta and her team did not have the opportunity to practice prior to the season opener as in year's past so Saturday was a chance for the team to get back into rhythm and the night started off with a little bit of a stumble in hot laps, "I felt the entry speed was not good." Cappetta's heat race started with a misstep when the right rear of another car got into her left front, "Things happen so fast in the heat races. Thankful to at least hang onto fifth considering the situation could have been a lot worse."
Assessment of Opening Night
Cappetta and the team continued to work on the car but the corner speed continued to be an issue, "Felt like the feature start wasn't good and the corner speed wasn't great. The car felt loose which is not my type of car. Definitely felt like the car got worse as the race went on." Ashley lined up 14th for the feature start and would cross the line 17th after 20 laps.
Despite it being Cappetta's first race of the season a good portion of the field had already started their season, "Most of the guys there already had two races under their belt. When we can go into the box in one piece at the end of the night we take that blessing and look ahead to do better next week."
With one race under their belt Ashley and the team are looking to come back stronger, "Saturday I feel like I could have done a lot better than what we showed. The team was getting back into the groove and everyone was out of rhythm, as a team it's important to be on top of our game together. We'll take last weeks' race, look at notes and video and see what we can do better."
Once the car was back at the shop the team did find some damage to the car that likely contributed to the struggles Cappetta had with the car during the feature.
Season Plans
When looking ahead to the 2023 season the goal is pretty simple for Cappetta, "We want to do better than last year." Ashley struggled drawing good pills to start of the night and on top of that there were a struggles and hardships outside the track, "I can't let that stuff consume me and I need to stop letting bad nights get me down." Cappetta is also looking to get out of her comfort zone with trips planned to new tracks in 2023 including Big Diamond.
Stay tuned to Cappetta's social media accounts, as well as Addicted2DirtPR.com/Events for the most up to date schedule information.
Up Next
Cappetta will return to Lincoln Speedway on Saturday, April 15 at 6pm.
Season Stats
1 races, 0 wins, 0 top 5's, 0 top 10's, 0 top 15's
Trivia Question
In what year did Ashley Cappetta score her first 358 sprint car win?
The answer in the next press release!
Partner Spotlight
Gettysburg Trading Post: Serving south central Pennsylvania and Northern Maryland, helping customers with all their firearm related needs! Gettysburg Trading Post is conveniently located at 2222 York Road. Stop by today to buy, sell, or trade.
Firearms
At Gettysburg Trading Post, you will find wide variety firearms for every need. Their inventory is constantly evolving so stop by today to see what they have. All in-stock firearms are on display for anyone to view. They're also prepared to process all transfer paperwork and manage every aspect of your firearms purchase!
Firearm Accessories
They're constantly upgrading their inventory to include scopes, mounts, laser sights, carry cases, ammunition, magazines, cleaning kits, grips, and all the parts you need to make your firearm the best it can be.
Browse their large selection of protective equipment including pepper spray and pepper gel and their great selection of quality Benchmade Knives!
ASHLEY CAPPETTA RACING
Press Releases: A2DPR.com/latest-news
Facebook: Facebook.com/ACappettaRacing89
Twitter and Instagram: Twitter.com/A_Cappetta89
Website: AshleyCappettaRacing.com
Ashley Cappetta in action during the 2023 season opener for the 358 sprint cars at Lincoln Speedway (Photo Credit: Jeremy Zarfos Photography)
Broadcast coverage of most Lincoln Speedway events is available at FloRacing.com
Broadcast coverage of Port Royal Speedway events is available at FloRacing.com
Broadcast coverage of Williams Grove Speedway events is available at DirtVision.com
THANKS TO OUR PARTNERS!
The entire team would like to express their appreciation to all their partners for the support during the 2023 racing season!
Gettysburg Trading Post
Mike's Towing & Recovery
Yesteryear Antique Center of Hanover
Stoner's Auction
O'Brien's Fuel and Service
Iron Horse Trains
Republican Club of Hanover
Racing Through Time Antiques & Collectibles
CP-Carrillo
DW Automotive Services, LLC
FK Rod Ends
Food Adventures
BAM Products Roller Lifters
KH Suspension
NASTY N8 Racing
Schaeffer's Oil / Doug Smith
Smith Titanium
Total Seal
Hooker Harness
MyRacePass
Sharp Advantage Safety Products, LLC
Titan Wings
BDB Graphics
K1 Racegear
Kinsler Fuel Injection
AL Driveline
3 Feathers Racing
Jesel
OGIO
GoPro
Slick Products
Addicted2Dirt PR and Media Management provides personal and powerful dirt motorsports public relations. We are a central Pennsylvania based business with a love of and passion for dirt racing and the people who make the sport what it is.
We keep fans engaged with your story through our personalized press releases
We promote your marketing partners to give them the value they want for their investment
We increase driver & team visibility to reach more fans and potential marketing partners
We present the polished, professional image that marketing partners want representing them
We leverage our audience and business model to achieve all of the above
Visit our website, A2DPR.com, to learn more about us and follow along with the stories of our race teams!
Follow A2D on Social Media! We are @Addicted2DirtPR on Facebook, Instagram, Twitter and TikTok! Follow hashtag #TeamA2D!
And of course, don't forget to subscribe to our YouTube Channel so you are always notified of our latest video features, recaps and stories for #TeamA2D!
Contact us via Email at: Rich@A2DPR.com
-
---
Article Credit: Emily Winslow
Submitted By: Ashley Cappetta
Article Media
Back to News