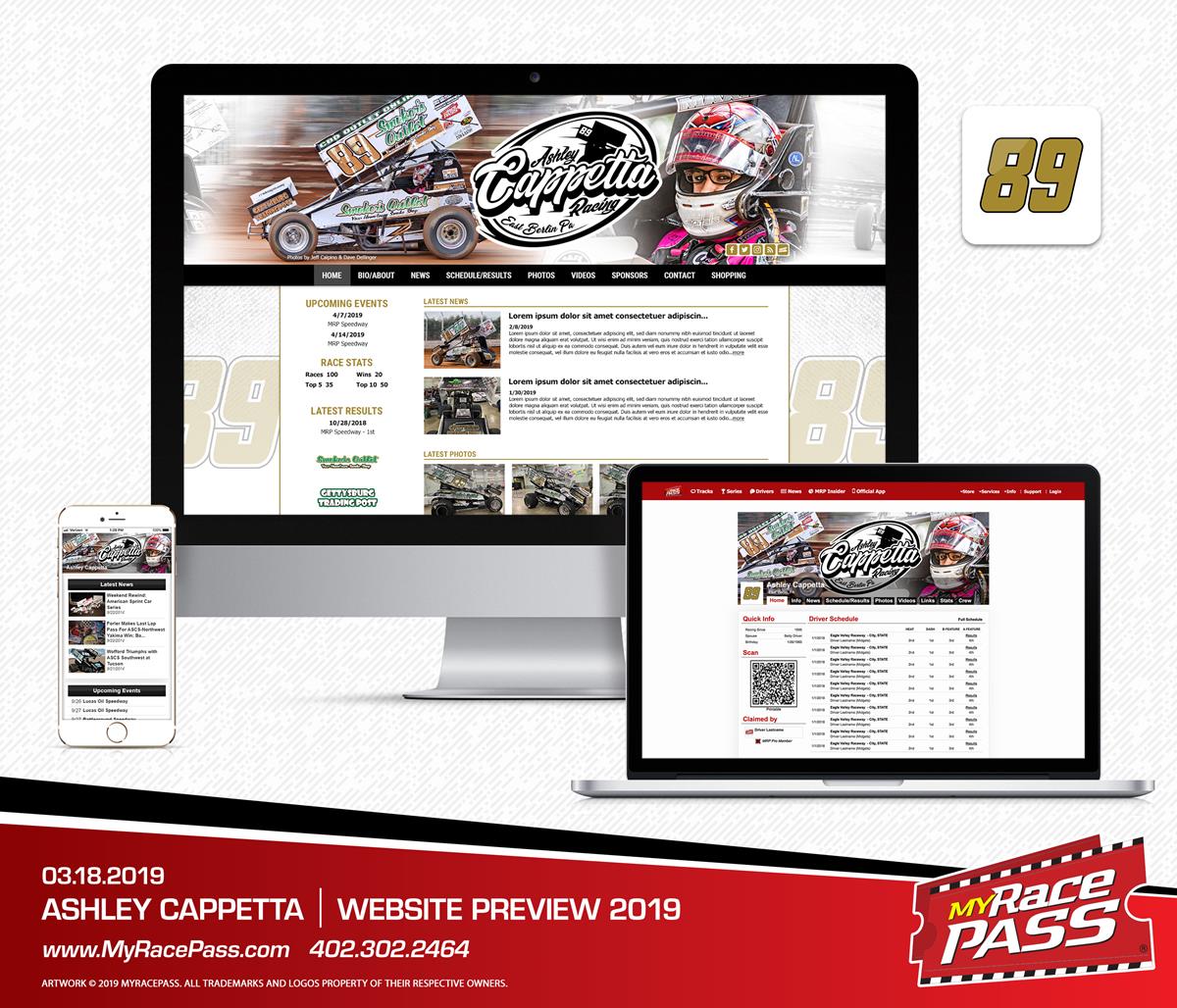 4/25/2019
Inside Line Promotions
---
MyRacePass Produces New Driver Website for Ashley Cappetta Racing
Inside Line Promotions – LINCOLN, Neb. (April 25, 2019) – MyRacePass has created a new driver website for Ashley Cappetta Racing.
The website – http://www.AshleyCappettaRacing.com – has pages showcasing her schedule and results, news, bio, photos, videos, sponsors, merchandise and more.
Cappetta, who hails from East Berlin, Pa., is a second-generation driver who focuses on 358ci winged sprint cars in Central Pennsylvania.
Cappetta placed fifth in the championship standings at Lincoln Speedway in Abbottstown, Pa., last year and she plans on competing at the track regularly this season.
UTILIZE THE POWER OF THE MYRACEPASS NETWORK –
MyRacePass (MRP) contains much of the racing content people are looking for. Tens of thousands of drivers, more than a thousand race tracks and race series, and more than a million race fans are included in the MyRacePass network. There are communication tools, management tools and promotional tools available for anyone to use. Bottom line – they make promotion and management much easier!
DOWNLOAD THE MYRACEPASS APP –
Have you downloaded the new MyRacePass App yet? It's FREE! This is an all-in-one app for drivers, tracks, series and FANS! Our App provides information such as lineups and results, point standings, live timing, event tickets, apparel and so much more! You can find the App on Google Play or App Store today!
WHY DO YOU NEED TO TAKE ADVANTAGE OF MYRACEPASS –
There are so many aspects of running a successful race team outside of what you do on the track. It's what you do off the track that draws the attention you need to help with your team's recognition throughout the sport. A website is a very useful tool to keep your sponsors and marketing partners up to date with your racing. With our PRO website packages, you have the ability to track the impressions and clicks your sponsor logos receive while being on your website. You can use that as a tool to show your current marketing partners the benefits of being involved with your race team – solely on the website. You can also use those same tools to help generate new, long-lasting marketing partnerships. On top of that, a website is a great database for your career and with the power of your information gets spread throughout that entire fast-growing network of websites.
For more information about MyRacePass, be sure to check them out online at http://www.myracepass.com. For instant updates on products/promotions and contests, be sure to follow them on Facebook at http://www.facebook.com/myracepass and on Twitter, http://www.twitter.com/myracepass.
INSIDE LINE PROMOTIONS –
Inside Line Promotions specializes in affordable public relations and media management for motor sports drivers, teams, sponsors, tracks, series, events, organizations and manufacturers. ILP Founder Shawn Miller leverages professional journalism with new media technologies and social networking to improve your exposure and the return on investment for your sponsors.
To meet the media relations needs of your program by joining Team ILP, contact Shawn at 541-510-3663 or Shawn@InsideLinePromotions.com. For more information on Inside Line Promotions, visit http://www.InsideLinePromotions.com.
---
Article Credit: Inside Line Promotions
Submitted By: Shawn Miller
Back to News